Inspired by
this
article in the NY Times today, and a few other postings floating around Facebook about Bard, I thought it might be time to share with you all some of my deepest, darkest thoughts about Bard College. Actually, it's not that dramatic, but still, I don't like to admit that I have regrets that often, so take advantage.
The fabulous Blithewood of Bard, overlooking the Hudson River.
Whether you're thinking about Bard, applying to Bard, or studying at Bard....or if you're a fellow alumni...I'm sure you can relate to some of the things I think. If not, well, as many people always say, Bard is what you make it. So if you made it awesome, I congratulate you. If you made it suck, well...you know who you are.
Let me start by saying that Bard could be one of the coolest places on Earth. Where else can you find such an eclectic assortment of people, from all over the world, who are genuinely
different
? Students' talents and backgrounds vary wildly, the professors range from shocking to strange to simple, and the campus' look changes the more you walk around on it. Foreign languages are thrown around like knives in ninja training and witty people are as common as blades of grass. Weird, sketchy parties with tons of charm are a key part of the nightlife. Fresh air is aplenty, as are quiet places to study, which makes it a perfect space for academia and the unusual.
But this is all Bard on the surface. Underneath all the allure and exquisite detail is something truly unsettling for students coming from lower-income families and small-town backgrounds.
Regret 1: Understanding Finances
My very first Bard regret would be not properly analyzing my finances. If you are a financially independent Bard student (no, not the kind that gets monthly allowances), you need to be aware: in addition to the private loans you probably took out yourself, Bard might be taking out Federal Stafford loans for you, too. These seem small: you get messages in your Bard mailbox around the start or end of every semester, notifying you that Bard is helping you secure $2,000 extra here, $1,500 extra there, do you agree?, sign here, and so forth. This money adds up, and you will have to pay it back to the government, America's worst lender.
While Bard is very open about this process, the college makes little effort to explain the consequences to you. For a student like me on a generous scholarship, I was happy to cover the difference by going $25,000 or even $30,000 into debt. But tell me it's $55,000 in total...and I might hesitate.
And do not forget that students have other school-related expenses throughout the year. Used books are easy to come by, but it would be dishonest to say I wanted to even buy them by the end of my college days. Learning how to get by without books -- or better yet, signing them out of the library -- saved me enormous quantities of money. I also sold back all of my "new" books instantly after using them. I'm a bit ashamed about that.
Regret 2: Actual Quantity of Things Learned
My second Bard regret is the actual quantity of things learned, which more than ever seems rather low. This could be related to my first regret; due the the fact that I did not properly analyze my finances, I jumped right into a full-time job at the nearest cafe in order to fund the only thing that has motivated me since age 15: traveling. Had I known that I was going to be floundering in a pool of debt after graduation, I would have used all or most of this money to start paying my interest. Either way, I would have been working a full-time job, so this point is valid:
I spent more time working at the cafe than studying at Bard
. This is a solid fact.
Whether or not I
would have
spent that time studying is really up for debate. If I had 40 extra hours per week, would I have actually read any of those readings my Asian studies class assigned? Would I have watched the movies that went along with my Arabic text book? Would I have actually spent more time on my Senior Project?
At the end of the day, I guess I'll never know. But what I do know is that I did not learn as much as I could have learned at Bard. This is not to say I didn't learn for four years.
I just learned elsewhere.
Regret 3: Friendships
My third and potentially most important regret is not forming more than one or two solid relationships. From the moment I touched down at Bard, I had the overwhelming sense of not "belonging." Not in an awkward way (i.e., all these people are smarter or prettier than me), but in a social status/class way. Everyone was immediately talking about going to the "city," whatever THAT was, and spending full years abroad volunteering. My reaction was, "how do you have the money to do that?" but I held my tongue and slowly began to realize that many of my fellow students were, well..."better off" than I was. I was happy to work hard and earn cash to join their crazy outings, but the realization that I often couldn't due to
time
hit me swiftly and strongly.
Hey, come to my show. Sorry, I'm working. Hey, let's go to NYC this weekend. Can't, I'm working. Emily, will you be attending the workshop on Thursday?
Sorry, I'm working.
I began saying that phrase so often that it came automatically, and I honestly didn't care. It never made me upset. But looking back, it does.
Is that why I was never seen as a particularly engaged student in any of my classes (was I actually disengaged? or did it just look like that?) or invited to any social gathering/event before 9pm? I simply missed out. I missed out on a lot of what Bard had to offer. And that is actually kind of painful.
Regret 4: Professor Relationships
My fourth and final regret about Bard is my absolute and atrocious failure to build relationships with professors. In my world, prior to coming to Bard, teachers were the enemy: they didn't understand your potential, held you back at times, and made you feel trapped in the disastrous grading system. Only now do I understand that Bard professors are nothing of the sort.
While I spent time avoiding my teachers and simply trying to "make the grade" at Bard, my peers were visiting their offices, discussing their lives, ideas, and dreams, and most importantly, networking. In a world where "who you know" is often the single determining factor in getting a job or not, how I missed this point is really beyond me, and embarrassing.
I made not one friend among the Bard faculty
, and I could not feel more stupid about that (I did make one enemy, during a conversation I am somewhat proud of). My best friend at Bard did try to tell me that I was doing it wrong, but I ignored his advice. Now I know he was right.
Talk to your Bard professors and get to know them. In the long-term, it could be the most important step you take in your career. For me, it's probably too late.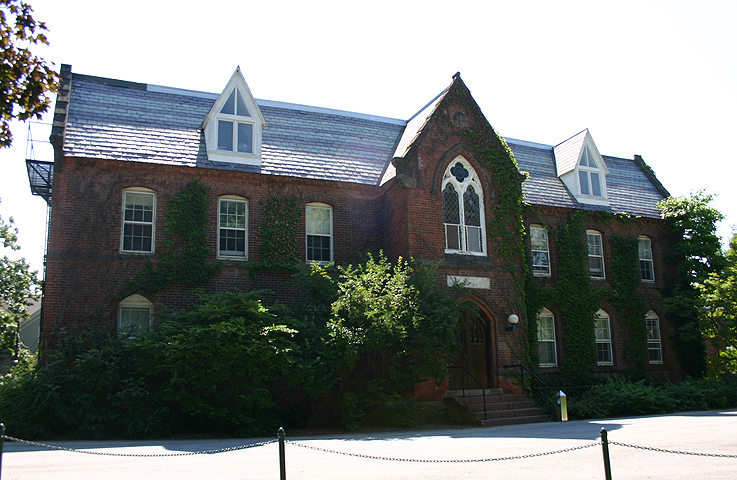 Where professors dwell.
So there you have it. Every time I see or hear about Bard in the media, I get a warm, fuzzy feeling, and I start thinking about what I miss about college. But then, a more somber feeling rises to the surface: I don't actually know what I miss, because I missed so much to begin with.